The London Labour Party asked Alexanders Removals and Storage to relocate its UK headquarters from Brewers Green to Victoria Street. We were chosen following a competitive tender process involving a number of other London removal companies.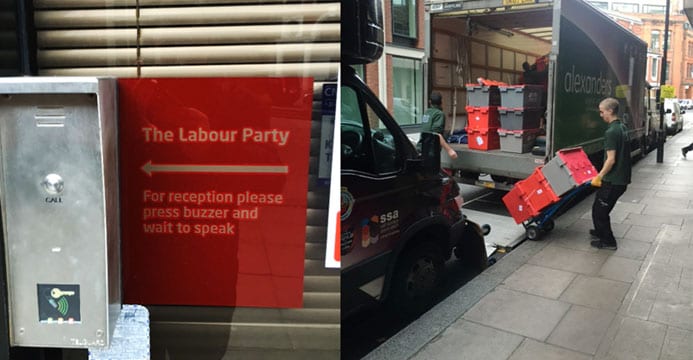 The job involved moving 300 desks and chairs, 300 crates of personnel files and 120 IT server crates to new offices located five minutes around the corner.
Leading up to the move we delivered all of the required packing materials so that the client was able to get everything prepared and labelled before our teams arrived. Along with crates, designed for files and paperwork, we delivered specialist foam-lined IT crates with antistatic protective packaging for flat screen monitors and hard drives.
"Analysing floor plans and visiting both sites ahead of the move date allowed us to plan our loading strategically"
We worked closely with the client who provided us with floor plans of both the old and new offices. We also attended both sites so that we were able to plan our loading strategically.
The office move itself took place over the weekend with a team of between eight and fourteen men on site each day. Two of our largest vehicles were used to transport the volume of goods between locations. Senior Foreman Tomek led the team on the ground whilst Operations Manager Andrew provided logistical and administrative support from back at head office.
"With the help of our heavy lifting expert we removed the two safes and had them installed in the new office 40 minutes later"
In addition to moving furniture, crates and stationery we were also tasked with moving two heavy safes weighing 220KG. With the help of our heavy lifting expert we had these removed and installed at the new location within 40 minutes.
The new offices were not yet complete so we were required to stack crates in different areas of the building so that they could be unpacked at a later date. Desks were placed in position as per the floor plans provided to us.
The move was completed by 6.30pm on Sunday evening. Everything went smoothly and to schedule allowing The Labour Party to embark on the next stage of their relocation project on Monday morning.
Client comment
Ayse Veli – "Absolutely fantastic work & customer service by all the crew".